Residential Ceiling Cleaning
Magic Mist Ceiling Cleaning in Surrey offers residential ceiling cleaning anywhere in the Lower Mainland of BC. Our enzyme-based cleaning solution allows us to safely and efficiently brighten and sanitize most surfaces for half the cost of having a ceiling painted and up to 30% savings on the cost of replacing ceiling tiles. We cover all your furniture, so there is nothing to move and minimal mess!
Magic Mist offers amazing results that endure over time, even with nicotine or grease stained ceilings. Not only does our cleaning process restore the clean look of your ceiling, it improves air quality by removing dust and bacteria that may contribute to health concerns for you and your family. See below to get an idea of how our cleaning process works, and feel free to contact Magic Mist for a free in-home estimate. As you can see in our before and after pictures, the results of Magic Mist cleaning are truly magical on ceiling tiles and textured and non-textured ceilings!
Book your free estimate today!
Learn more about our process below: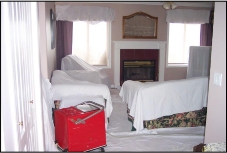 All furniture is left in place. This reduces the time required to return the room to its original setting. We ask only that you remove small items and breakables from top shelves and tabletops.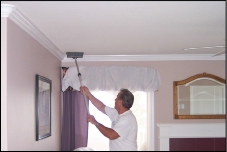 Once we place our drop cloths over your floor coverings and furnishings, a soft-bristled brush is used to remove any loose dust and cobwebs.
To cut in, the edge of the ceiling is then sprayed. The top edge of the walls are then wiped to remove any overspray. This eliminates the need to mask the walls.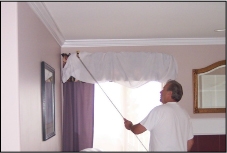 The balance of the ceiling is then sprayed in two directions to ensure complete coverage, and left to dry. No further steps, such as brushing or vacuuming are required. Our product does the cleaning.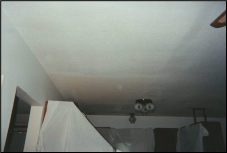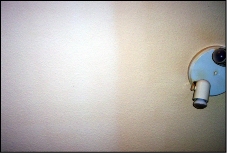 Examples of heavy smoking and cooking grease on an average ceiling and on dirty ceiling tiles. In these photos, the ceilings are still damp. They will continue to whiten as they dry.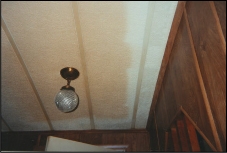 If you need more than only your ceilings cleaned, check out our Wall Cleaning Services too
services
watch the video
Amazing Results that Last for Years,
No Mess, No Furniture to Move...
We Cover Everything!
Website Hosting and Design by SilverServers Inc.