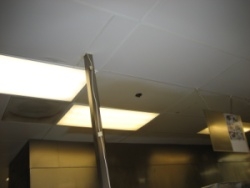 Given the health concerns for air quality in retail and commercial buildings, the cleaning of walls and ceilings has become extremely important.
Over time an accumulation of cooking grease, food spills, dust, mould, pollutants and everyday dirt can accumulate on a ceiling. The build up is usually greater around ovens, fans and grills.
Our enzyme based solution has proven superior in its cleaning abilities. It is applied to the ceiling in a fine mist, where it emulsifies, or breaks down, the built up grime. It is then easily removed with use of micro-fiber mops. As a result, your ceiling tile, t-bars and air diffusers are left spotless. Employees take pride in a clean environment.